How does Saxenda work?
The active ingredient liraglutide is present in a solution and applied with a pre-filled injection pen. Liraglutide is an acylated human glucagon-like peptide-1 (GLP-1) receptor agonist which is a synthetic version of the naturally produced GLP-1. Receptors for GLP-1 are located in various locations in the brain and activated by liraglutide which influences appetite regulation and calorie intake.
Liraglutide also helps improve blood glucose level regulation as it influences the secretion of insulin and glucagon. Despite this the medicine is not suitable as sole medication for diabetes.
Who can buy Saxenda online?
Saxenda helps to aid sustainable weight loss in patients suffering from obesity with a Body Mass Index (BMI) of above 30 or 27 and higher when there a weight-related comorbid conditions such as high blood pressure, diabetes or dyslipidemia is present.
If the patient hasn't lost at least 5% of their initial body weight after 12 weeks of using the standard dose of 3 mg per day, the treatment should be discontinued.
How do you use Saxenda?
A pre-filled pen contains the active ingredient liraglutide which can be applied in selected doses. The starting doses should be set at 0.6 mg. This is increased each following week by 0.6 mg until the final dose of 3 mg is reached. The slow increase helps to avoid side effects such a nausea while the body gets accustomed to the medication.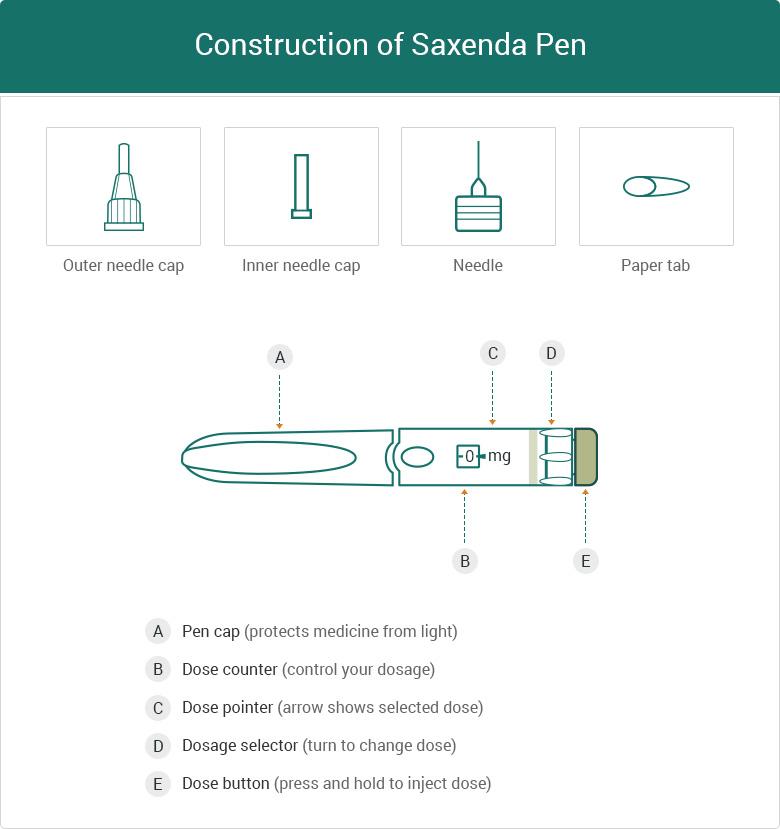 The injection should be done only subcutaneously and can take place on the thigh, abdomen or arm. While the time of application can be chosen individually, it is recommended to inject Saxenda around the same time daily.
Saxenda is delivered with single-use needles which need to be disposed of after each use to avoid contamination. An appropriate disposal box is included. The pen is stored without a needle attached.
How should you store Saxenda?
Due to the active ingredient being applied with a solution Saxenda has to be stored in specific ways to ensure a safe maintenance of the medication. Saxenda has to be continuously stored in the refrigerator at temperatures between 2°C and 8°C. However, it should be taken care that the solution is not stored near or in the freezer compartment to avoid it from being at too low temperatures. After the first application the solution in the pen can be safely used for up to a month.
The solution should be protected from direct light to avoid deterioration, so the the cap should be placed back on the pen after every use. Before use the solution should be checked if it's clear and colourless or almost colourless. In case Saxenda has been frozen at any point it should not be used anymore.
Are there any side effects?
As with any prescription medication Saxenda may also cause unwanted side effects. Especially when starting the treatment and the body is still adapting to the medication, side effects such as nausea are known to appear. In most cases these side effects abate on their own without the need to adjust the dosage. Most common side effects for Saxenda also include diarrhoea, constipation, headaches and vomiting.
Less common side effects of Saxenda can include reduced blood sugar, stomach pain, dizziness, tiredness, changing lipase levels. Due to the mode of application there is also an increased risk for local reactions. These might include rash, erythema and pruritus.
As Saxenda might also cause serious side effects such as dehydration, increasing heart rate, pancreatitis, thyroid and acute gallbladder disease. Should any of these or side effects develop, the treatment should be discontinued and a doctor contacted as soon as possible.
What are the contraindications and interactions of Saxenda?
Saxenda is unsuitable for weight loss treatment in patients with hypersensitivity to liraglutide or any other components of the product. Patients younger than 18, older than 75 or with a BMI below 30 or under 27 with comorbid conditions are also not suited for treatment with Saxenda. The medication should not be used during pregnancy and breastfeeding.
Further contraindications are:
congestive heart failure
inflammatory bowel disease
mild to moderate hepatic impairment
severe renal or hepatic impairment
medullary thyroid carcinoma (MTC)
Multiple Endocrine Neoplasia syndrome type 2 (MEN 2)
It is important to note that medical treatment alone is not sufficient for a sustainable reduction of weight. Saxenda therefore needs to be treated merely as an additional helper complementing healthy eating and sufficient physical exercise. If the problems with excess weight are primarily caused by issues eating disorders, endocrinological dysfunctions or as medication side effects, Saxenda is not recommended as treatment.
For patients with a medical history of depression or suicidal ideation, Saxenda is not a recommended treatment as it increases the risk for suicidal thoughts and behaviour. Due to this, patients should be especially observant of irregular mood and behavioural changes.
Interactions
Although liraglutide aids regulation of blood glucose levels, it is not suitable as a stand-alone treatment for type-2 diabetes. It should also not be used in conjunction with insulin or other GLP-1 receptor agonists.
When combining Saxenda with other weight loss medication of any kind, there is a higher risk for side effects. Therefore other potentially used treatments should be stopped before beginning the application of Saxenda.