Can I buy Propecia online?
Yes, you can buy Propecia online as long as you complete a few medical questions as Propecia is clinically proven medication and not over-the-counter remedies. In order to do so, you simply need to select the quantity you would like before completing our quick, free online consultation. This will only take a few minutes and once completed, one of our doctors will review your answers. A prescription will be sent directly on to our UK pharmacy where one of our pharmacists will check the prescription, prepare the medication, package it discreetly and then dispatch it for free next day delivery.
What is Propecia?
Propecia is the most effective treatment available for male pattern baldness (hair loss) with impressive results, especially in comparison to other hair loss treatments for men.
Over nine out of every ten men with male pattern baldness who used Propecia experienced no further hair loss, whilst around two thirds of these men even went on to experience significant hair regrowth.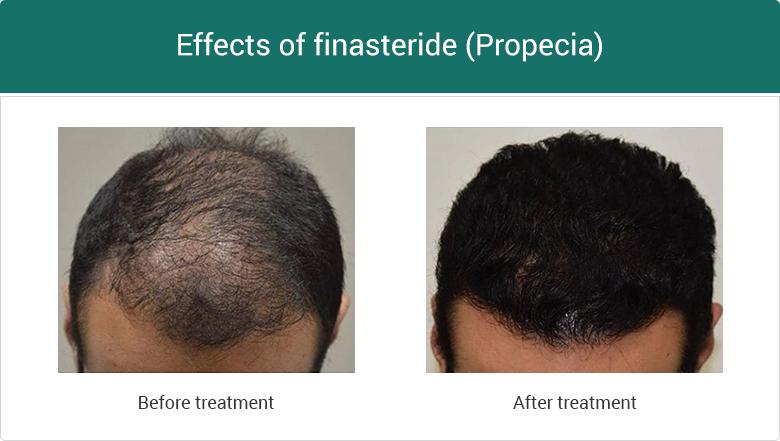 Propecia is also incredibly easy to use in tablet form to be ingested rather than creams or lotions that need to be applied orally.
What is male pattern baldness?
Male pattern baldness is the most common cause of hair loss in men and is typically caused by something called DHT, which is formed when testosterone is broken down by the body. Whilst this is a natural process that occurs in all men, it does not affect everyone in the same way.
For information on hair loss, treatments available and how to tell if you are losing your hair, visit our causes of hair loss page.
How does Propecia work?
The active ingredient in Propecia is finasteride, which works to inhibit the breakdown of testosterone, leading to a significant reduction in the amount of DHT in the bloodstream. This has the effect of preventing hair loss in the vast majority of cases and also promotes hair regrowth in a large number of people too. Propecia is the only treatment - and the only prescription option - available that targets the root cause of male pattern baldness in this way, making it the most effective treatment currently available.
How do you use Propecia?
Using Propecia is simple and can very easily be made a part of your daily routine or schedule. You simply need to take one tablet per day with a glass of water at roughly the same time.
It is important that you remember not to take more than one tablet per day as this can sometimes increase the risk of side effects, and it will not improve the success rates of your medication.
Forgot a dosage?
If you do forget to take a tablet at the correct time, then take it as soon as you remember or have a chance to do so. If you miss a day entirely, do not try to balance your intake by doubling the dose the next day; simply continue your treatment as normal, taking one tablet a day – it is unlikely that missing a day, as long as it is not done too often, will have too huge an effect on your hair loss prevention.
Prescription medication like Propecia
As with all prescription medications, it is important that you take Propecia as per the instructions. The treatment comes complete with a detailed patient leaflet that offers further advice and information for anybody looking for it. You are also able to download the patient leaflet at any time from the bottom of this page. For any further assistance or information, please do not hesitate to contact our dedicated, professional customer service team.
Propecia side effects
As with almost all prescription medications, Propecia can cause side effects in very rare cases. In clinical studies, side effects were very uncommon and the majority of men were able to complete courses of the treatment without any adverse symptoms or consequences at all. A very small number of men experienced side effects, such as a difficulty maintaining an erection, but this occurred in less than 2% of men and usually disappeared after a short time. If you experience any more severe side effects, however, then please contact your doctor or get in contact with our customer service team.
Propecia precautions
Propecia is only available to men who are over 18 years of age and who are suffering from male pattern baldness. This treatment has been through and passed extremely thorough clinical trials, with some lasting as long as five years, and it is well tolerated and effective in the vast majority of cases. There are some people that should not use Propecia:
Women
Men with allergies to the ingredients of Propecia
Men with a history of liver problems
Additionally, this treatment should not be handled by women who are pregnant or breastfeeding.