Can I buy Mercilon contraceptive pill online?
Heading for a doctor's appointment for a repeat prescription every time you need Mercilon is tiresome. Buying contraception online is a convenient and quick option. You simply need to complete a free consultation with all the questions that would be asked in your face-to-face appointment anyway, which will be assessed by one of our doctors. Once they approve your consultation, a prescription will be sent straight to the pharmacy for dispatch.
Packages are all discreet so you can get your contraception delivered anywhere and they will be sent the next day for free if ordered by 4.30pm.
What is Mercilon?
Mercilon is a contraceptive that is nearly 100% effective at preventing pregnancy. It is from the class of contraception known as the combined pill, the most popular contraceptive option in the world as well as the UK. This means it contains both oestrogen and progestogen that work to mimic your menstrual cycle.
As with all combined pill, Mercilon must be taken correctly for it to be that effective. This means taking one pill at the same time for 21 days followed by a seven-day break. More on the process of the combined pill is detailed below.
The Mercilon pill offers immediate protection when taken on the first day of a woman's period, whilst the three-step process and combination of both oestrogen and progestogen make it one of the most effective contraception methods available. Whilst this is Mercilon primary aim is to prevent pregnancy, many women decide to use the combined pill for additional reasons:
Reduce blemishes and improves acne-prone skin
Minimises any pain and discomfort during your period (cramping)
Subdues PMS symptoms such as mood fluctuations
Regulates the starting date to one reliable time each month
Mercilon also contains a lower concentration of oestrogen, and so has a reduced risk of causing side effects like weight gain. In fact, some women have experienced weight loss after long-term use of this treatment.
How does Mercilon work?
The Mercilon contraceptive pill contains synthetic forms of both oestrogen and progestogen. The presence of both of these hormones makes Mercilon one of the most effective options of contraception for women at over 99%.
Mercilon is nearly 100% effective as it works using a three-stage process for pregnancy prevention:
Step 1 - It tricks the body into thinking that ovulation has already occurred
Step 2 - It alters the lining of the womb preventing any fertilised egg from latching on to develop
Step 3 - It thickens the naturally occurring fluids in the cervix, which stops sperm from travelling into the womb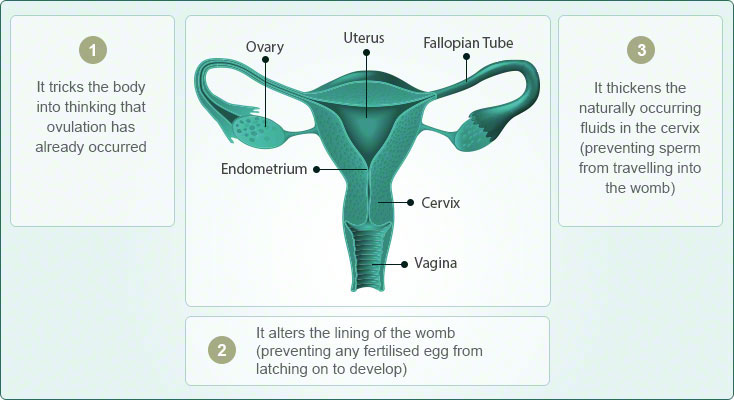 Mercilon also boasts a more finely balanced concentration of the active ingredients than some of its counterparts, making this combined contraceptive option more tolerable than others. In particular, the Mercilon pill can be viewed as an effective alternative for women who have experienced difficulties when using similar, but stronger, contraceptive pills like Marvelon.
How to take Mercilon
Mercilon is very simple to take and should be taken as instructed to be 99% efficient. Missing more than one pill in one blister pack or taking pills at varied times in the day can reduced its effectiveness and put you at an increased risk of pregnancy. This may also be the case for certain antibiotics and antivirals. If you're taking additional medication, you should inform your doctor to double check that they don't counteract each other.
Each tablet contains the same level of hormones. As the dosage of these two active ingredients is the same in each pill, this makes Mercilon a monophasic contraceptive pill. Whilst the blister pack is labelled for your ease, this means the order in which you take Mercilon doesn't matter as long as you take 21 pills consecutively. The two synthetic hormones Mercilon contains is…
Ethinylestradiol (20mcg) - artificial form of oestrogen
Desogestrel (150mcg) - artificial form of progestogen
The instructions for using this treatment is the same as other monophasic contraceptives, which is detailed in the breakdown below:
Take this treatment for 21 consecutive days. The blister packs are labelled the days of the week to help keep track.
Take each pill at the same time every day. Many women take their contraceptive first time in the morning or last thing at night.
The next seven days are pill-free. You'll experience a withdrawal bleed similar to a period.
Continue the next pack on the seventh day. Repeat this process until you want to stop using Mercilon.
Pills can be taken with or without water. They are small enough to digest without further aid.
Mercilon is available in a three month or six month supply depending on your preference. You will only need to complete a consultation two-four times every year.
You can start Mercilon at any point but you will only have immediate protection if you start taking it on the first day of your period. If you start Mercilon any other day than the first day you will need to use a barrier contraceptive method such as condoms for an initial seven days before being over 99% protected.
What happens if I miss a Mercilon pill?
We will provide you with a detailed patient leaflet that will have full instructions on what to do if you happen to miss a pill. The specifics will depend on the number of pills that you miss.
If you miss a single pill, take the tablet as soon as you notice. You will still be fully protected.
If you miss anymore than this, you may no longer be protected and will have to use a barrier contraceptive method for a further seven days.
It is important that you take each contraceptive pill at the correct time for optimum effectiveness. Each Mercilon pill will be calendar marked to help you keep track of your treatment cycle, although we would advise that you take each tablet at the same time each day to make this easier.
STI Protection
The combined pill including Mercilon doesn't provide protection from sexually transmitted infections. This includes bacterial infections like chlamydia and gonorrhoea. The best form of protection from STIs is barrier methods such as male and female condoms. They provide security against bacteria infections and can help prevent viral infections too.
Mercilon Side Effects
As Mercilon contains a lower concentration of oestrogen, users will be at less risk of side effects. Whilst weight gain on many other contraceptive pills can be a side effect (often down to water retention that subsides over a couple of months), this medication should also not lead to any weight gain. In some cases it is has even been recorded to lead to minor weight loss during long-term use.
The risk of side effects with this treatment is very small and any that do occur will usually pass after a few weeks, once your body has become accustomed to the ingredients in the pill. Possible symptoms can include mood swings, breast tenderness and irregular bleeding.
With side effects of the pill, it is advised to give three months to let your body become accustomed to the influx of hormones before swapping, unless the side effects are particularly troublesome.
You should consult with a doctor if you persistently experience any side effects, or if you feel that the pill is causing you any other issues.
Mercilon Precautions
As this treatment uses a lower concentration of oestrogen, it is suitable for women who are more sensitive to this particular hormone. There are some women who should not use this contraceptive pill, for example if you are pregnant or breastfeeding.
Mercilon may also be an unsuitable contraceptive choice if any of the following apply to you.
Liver problems
Heart problems
History of strokes
Can I take other medications with Mercilon?
Mercilon is a well-tolerated medication that shows no reaction with alcohol or dietary habits. That being said, there are certain medication groups that can impact how this treatment functions. These include:
Antibiotics
Tetracyclines
Barbiturates
When completing your online medical consultation, you must ensure that you include any medication (prescription or over the counter) that you are currently taking, so our Medical team can make an informed decision on whether Mercilon is the right contraceptive option for you.