A Leading Cause of Erectile Dysfunction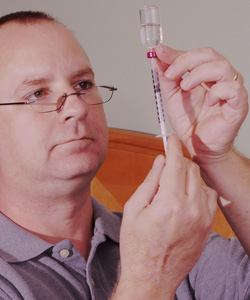 Symptoms of diabetes type 2 develop gradually over a period of years and may only be identified after a routine medical check-up. It's not uncommon for diabetic men to become aware of their condition only after seeking medical advice for a separate health complaint, which is in fact one of the many symptoms.
Diabetes may be present in men who experience the following:
Passing urine more often than usual, especially at night
Increased thirst
Extreme tiredness
Unexplained weight loss
Genital itching or regular episodes of thrush
Slow healing of cuts and wounds
Blurred vision
Diabetes and Erectile Dysfunction
The aforementioned symptoms of diabetes are easily disregarded as petty, temporary ailments. One physical manifestation that is not to be ignored is erectile dysfunction, a sexual health condition also known as impotence that affects up to 10% of the UK male population. It's a fact that approximately 35%-75% of men with diabetes will experience at least some degree of impotence during their lifetime.
Erectile dysfunction can set in 10 to 15 years earlier in diabetic men than men with a stabilised blood sugar level. The condition becomes more severe with age; there's a 50%-60% of a man with diabetes will be impotent. By the time a diabetic man reaches the age of 70 he has a 95% experiencing regular erection problems.
What links Erectile Dysfunction and diabetes?
The human body involves a matrix of interlinking complex systems that rely on nerve, blood and muscle function. For an erection to occur a man requires all blood vessels, nerves, male hormones to function healthily, and be capable of arousal. As diabetes develops within the body it inevitably stops some of these systems from working, and in many cases, damages the blood vessels and nerves that control erection. This means that even if a man has a well-balanced level of hormones and is able to be sexually stimulated (arousal), he still may not be able to achieve a firm erection for penetrative sex.
What is the next step?
Your main focus above all else should be using anti-diabetic medication to control glucose when levels drop or increase beyond what is considered healthy. This can be achieved over the long-term by doing more exercise, reducing your bodyweight and cutting down on the intake of carbohydrates.
Erectile Dysfunction tablets on prescription
If you are continuing to struggle with erection problems as a result of diabetes, then you can look into medicinal treatment to enjoy a healthy sex life. Branded tablets, such as Viagra, Cialis and Levitra are used by thousands of men in the UK to sidestep this common disorder and achieve firmer erections for penetrative sex.
Before you rush into purchasing erectile dysfunction tablets on private prescription it may benefit you to discuss all treatment options with your GP. Your doctor can refer you to an urologist to work with you and determine the best treatment for your situation.
If you want to find out more about the treatments available for Impotence, visit our erectile dysfunction treatment page. On this page you can find various different prescription treatments as well as FAQ's about erectile dysfunction.